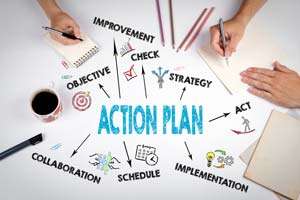 The last few articles I shared with you our Core Purpose:  A unified commitment to be the best Empty Nester homebuilder in Southwest Washington ranging from 1500-2400 square feet operating with a set of Core Values focused on excellence, respect, accountability, trustworthiness, financial sustainability and supporting vocational training in Southwest Washington.
This article I would like to share with you our strategic objectives for 2018. I am sensitive about what to include for a strategic objective. I have experienced and read most strategic objectives are not met. For that reason I will include less strategic objectives this year rather than more. Here they are for 2018:
Understand and execute our highly focused Build on Your Lot (BOYL) program.
Understand and execute our new Quail Inventory program.
Execute the transition plan from a 100% Build on Your Lot (BOYL) program to the new combined BOYL and Quail Inventory program.
Implement a training program that will allow our team to improve on their collaboration with an emphasis on improved collective decision making.

Each of the four strategic objectives have a detailed plan on how to achieve them. We are looking at the plans every week. We have found our collaboration is improving. I am stubborn about seeing collaboration improve. We live in the age of having a constant distraction in the palm of our hands. If we accomplish a collective improvement in collaboration with our clients, trade partners and employees I am sure the rest of the strategic objectives will be met.
Our new model home, a beautiful single level home named 'The Lincoln' is open Friday thru Monday every week from 10 am to 4 pm. It is located at 7909 NE 78th Street Vancouver, WA.  We look forward to your visit.
In our next article I will share with you some of our reasoning to produce Quail Inventory.