Q: Trust…it starts with a handshake…then what?
A: Backing up your commitment is what is most important.
Today people are more skeptical than ever. Earned Trust is required daily. I find that this is not something you can do selectively. It has to be something that a person does whether they are at work, home or play.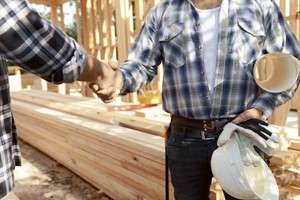 We have to work with people in our supply chain that are HANDSHAKE people. Finding those people and keeping them on our team is extremely important. I believe for me, as the owner of a new homes construction company in Vancouver WA, this is the most important focal point I have. We really work hard at getting clarity of what we are supposed to do prior to doing it. This takes a lot of time, focus and face to face meetings. Once we have clarity of the task then we communicate and follow up accordingly. Building and remodeling new home construction has its challenges. Mistakes will occur. We like to problem solve without the drama. We need people who can work this way. We tend to look at mistakes as learning opportunities. I keep a small notepad where I can record when and how mistakes occur. I call it my 'exceptions book'. Over the years this has been very helpful in eliminating repetitive mistakes. Nothing bothers me more than when somebody makes a commitment (SHAKING ON IT) and then doesn't follow through. We must work with people who keep their commitments. We are most proud ofwho we work with to build and remodel homes. There is not a day goes by where we aren't tested….it gives me great satisfaction to see our team back their commitments even when it is uncomfortable. I hope this helps and thank you for reading Ask The Builder and making The Columbian of Vancouver, WA a part of your day.
Please submit questions to jon@quailhomes.com. Jon can be reached direct at 360.907.5800. Tune into Green Building with Jon Girod on 1550 a.m. on Saturdays at 9 am and 860 am Saturdays at 1 pm.
SEE YOU NEXT WEEK!